This week three of our seasoned hunters got the opportunity to speak on TYHP's behalf at the Texas Parks and Wildlife Annual Commission meeting. Edward Bocock of Houston, Emily Goebel of Manvel and Rachel Lewis of Brownsville represented TYHP and were able to communicate to those present just how much TYHP has meant to them, how it has grown them and taught them lessons about life.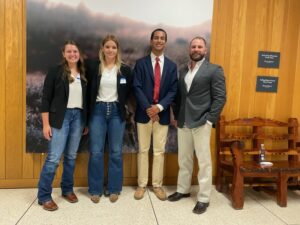 These three young adults are a stellar example of what TYHP strives to teach all the youth who come through the program. Discipline, hard-work, perseverance, helpfulness, teachable and love for the outdoors are all traits they possess. We at TYHP are honored to have such wonderful individuals represent the program on a public stage and look forward to them passing on all that they have learned to future generations.
If you are a TYHP youth hunter interested in speaking at the next commission meeting, contact Braxton Hicks, [email protected] for more information.